Cheryl Holz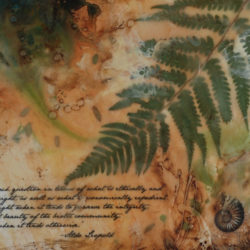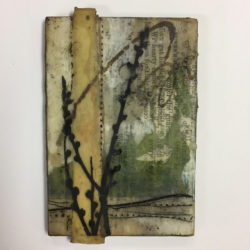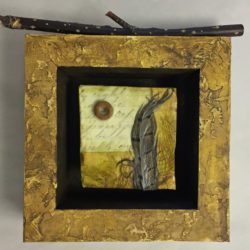 Biography:
I grew up in the country, collecting moss, bugs, and to my mother's chagrin, snakes and salamanders.  My rural upbringing had a big influence on my aesthetic sensibility.I taught after getting degrees in Art Education and an M.F.A, but became a full-time artist as interest in my work grew.I learn and grow through my work.  I'd like to inspire the same love of nature that I experience myself.My work has received national recognition, been hung in museums, corporations, and hospitals.  My greatest reward by far, however, is loading my dogs into the truck and heading to my studio!
Artist Statement:
My work is a homage to nature's strength, beauty and diversity. I alternate between building up surfaces and wearing them away, emulating natural processes and patterns.  I use a wide variety of materials, and anything from prairie grass to feathers are embedded at various points of the process.  Many of these sculptural wall pieces have recessed portions encasing natural finds, such as a beetle or trilobite.
In the studio I am always striving for equilibrium between spontaneity and rationality.  My hope is that the resulting work is a sensuous surface reflects that process and balances the natural with the manmade.